Quotes from the Visitors' Book

"The cottage is absolutely beautiful, and you have done a fantastic job in equipping it for maximum comfort and cooking."  Bob and Barbara B.

"Had a fantastic time in the cottage.  A good centre for exploring the surrounding area. This is a well equipped cottage catering for all my needs."  Beverley N.

"We feel so rested sleeping in such a tranquil and peaceful place and the bed was incredibly comfortable…ah!  We can't wait to come back and stay for longer next time!  We especially like the fact that everything is pro-ecology and healthy environment."  Qi Ming W. and Gordon J.

"The cottage has done us proud, and we have had a tremendous few days in North Devon."  Geoff U.

"We are planning our next visit already!"  Hans de M.

The HEP is delighted to offer the opportunity to stay in a holiday home near Umberleigh in Mid/North Devon, close to the Tarka railway line.  It is within easy reach of the market towns of Barnstaple, South Molton and Great Torrington, and the North Devon coastline with its excellent walks and surfing beaches.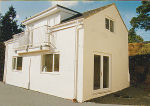 Click picture for views or Click here for stills

Click here for details & Booking Form

Contact

High Energy

Project